Hotel Institute Montreux er akkreditert og godkjent av lånekassen som utdanning i utlandet.
---
Studer hotelledelse og bedriftsøkonomi ved HIM – Hotel Institute Montreux. Med spesialiseringer innen luksusmerkeledelse, finansiell analyse og formuesforvaltning, etc.
La studiene ved HIM være utgangspunktet for en internasjonal karriere innen bedriftsøkonomi og ledelse, med spesialisering innen:
Luxury Brand Management
Financial Analysis & Wealth Management
Human Capital and Development
Lifestyle and Wellbeing Management for the Silver Economy
Franchise Business Management
Programmet på HIM er preget av deres direkte kontakt med næringslivet. Studentene jobber sammen med skolens partnere for å utvikle sine spesialkunnskaper. I programmet inngår to betalte praksisperioder på seks måneder hver. Studentene får da muligheten til å praktisere den teoretiske kunnskapen de har fått i klasserommet i virkeligheten.
Dette er et akademisk program som kombinerer sveitsisk hospitality- og serviceekspertise med amerikansk sans for lederskap, organisasjon, administrasjon og bedriftsvirksomhet.
Skreddersy graden din
Utvikle en forståelse av de menneskelige og operasjonelle sidene av bransjen
Skreddersy graden din i bedriftsledelse for gjestfrihet ved å velge fra en rekke spesialiseringer godkjent og opprettet med industriledere
Skaff deg gjestfrihetens kundesentrerte tilnærming til forretningsverdenen, bygg mental smidighet for å tilpasse dine nye ferdigheter innen gjestfrihet eller andre bransjer
Legg ut på to bransjepraksisplasser som vil gi deg et konkurransefortrinn i din fremtidige karriere
Uteksaminert med en:

Bachelor of Business Administration in Hospitality Management fra Hotel Institute Montreux (med spesialisering)*
Bachelor of Business Administration i Hospitality Management fra Northwood University
*Hotel Institute Montreux tildeler sin egen separate grad som bekrefter vellykket gjennomføring av Northwood Universitys BBA-program på campus i Sveits, og denne graden er en formell anerkjennelse av Hotel Institute Montreux av de tertiære standardene oppnådd av BBA-kandidater.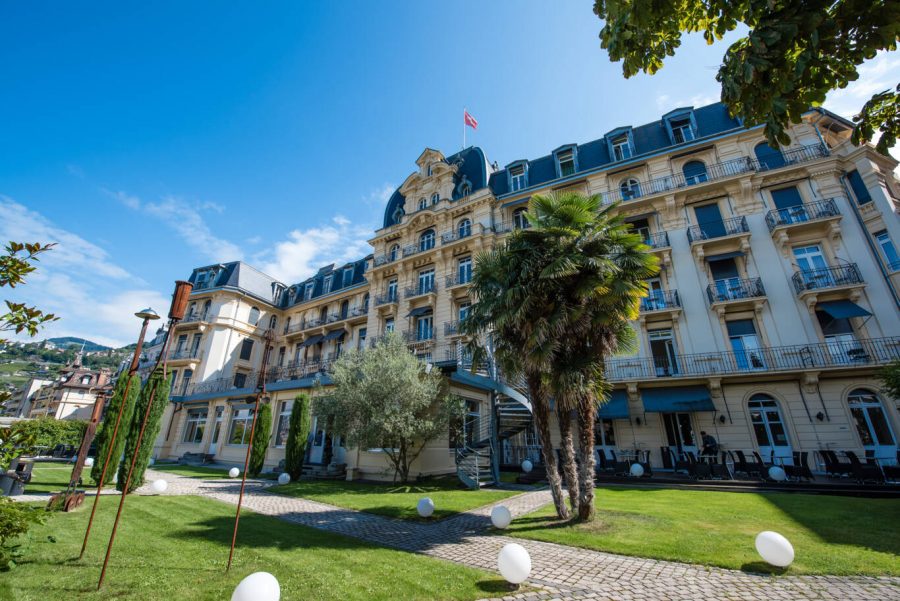 Struktur
Hvert år består av ca 6 måneders studier på campus i Sveits, etterfulgt av en praksisperiode på ca 6 måneder som kan gjøres enten i Sveits eller globalt.
År 1 – introduktion til hoteldrift, Montreux
Lær, hvad det vil sige at være kundecentreret, mens du udvikler en forståelse af de menneskelige og operationelle sider af branchen.
År 2 – Lederskabsprincipper + specialisering, Montreux
Øg din indflydelse som leder ved at udvikle din følelsesmæssige intelligens og tilegne sig vigtige lederevner. Vælg en specialisering for at fordybe dig i din interessesektor.
År 3, international forretning, Montreux
Lær, hvordan du driver en international virksomhed, og hvordan social ansvarlighed ser ud i et multikulturelt miljø.

Internasjonal praksis
Utdanningen omfatter totalt halvannet års internasjonal praksis. Denne praksisen finner ofte sted i 5-stjerners hoteller/resorts, luksusmerkeselskaper, banker eller andre internasjonale selskaper. Ved hjelp av skolens fantastiske internasjonale nettverk vil du få muligheten til å gjøre praksis akkurat der du vil i hele verden.
Ved skolen er det en karriereavdeling med engasjerte ansatte, og som student har du jevnlige individuelle møter for hjelp til praksis og karriereplanlegging. Skolen arrangerer også rekrutteringsmesser med bransjen og har en egen digital jobbplattform hvor våre samarbeidspartnere jevnlig legger ut unike muligheter for våre elever.
Kombinasjonen av en internasjonalt anerkjent utdanning og praksis på høyt nivå gjør at HIMs studenter har unike ferdigheter og er svært attraktive på det globale arbeidsmarkedet.
Profesjonelle partnere
Programmene ved HIM – Hotel Institute Montreux og deres spesialiseringer blir tilbudt i samarbeid med noen av verdens fremste forretninger innenfor sitt område. Våre partnere har en aktiv rolle i utformingen av våre programmer, og representanter fra disse forretningene kommer til skolen for å gi studentene «hands on»-erfaring innenfor sitt spesialiseringsområde. Våre partnere på HIM – Hotel Institute Montreux er:
Søknadspapirer:
Vitnemål fra videregående skole
CV
Kopi av gyldig pass
Personlig brev