Utdanning innen hotelledelse i verdensklasse. César Ritz Colleges – skolen som ble grunnlagt av herr César Ritz: «King of Hoteliers, and Hotelier of Kings».
Programmet ved César Ritz Colleges tilbyr utdannelse innen hotelledelse med spesielt fokus på forretningsøkonomi, turisme og entreprenørskap.
César Ritz Colleges-akademikere arbeider over hele verden og bygger sine karrierer både i hjemlandet sitt og utenlands. Det er et nøkkelkrav å kunne samarbeide med kollegaer, kunder og partnere fra ulike land. På vår campus er over 60 nasjonaliteter representert.
Studentene velger også å spesialisere seg innen bærekraftig utvikling og entreprenørskap, hvilket gir dem muligheten til å utforske disse emnene i dybden. Vår hotellederutdannelse gir i tillegg studentene egen bedriftsplan i hånden, gjennom prosjektarbeidet «Business Planning», som inngår i bacheloreksamensprogrammet.
Etter to år på César Ritz har studentene:
Ett års arbeidserfaring
To anbefalingsbrev
Et Swiss Certificate in Hotel & Restaurant Operations
Etter tre år på César Ritz Colleges har studentene, i tillegg til det overnevnte:
En akademisk kreditert bacheloreksamen fra Washington State University i USA
En bacheloreksamen fra César Ritz Colleges
En ferdig bedriftsplan innen hotell eller restaurant
Vi tilbyr også et masterprogram. Les mer her.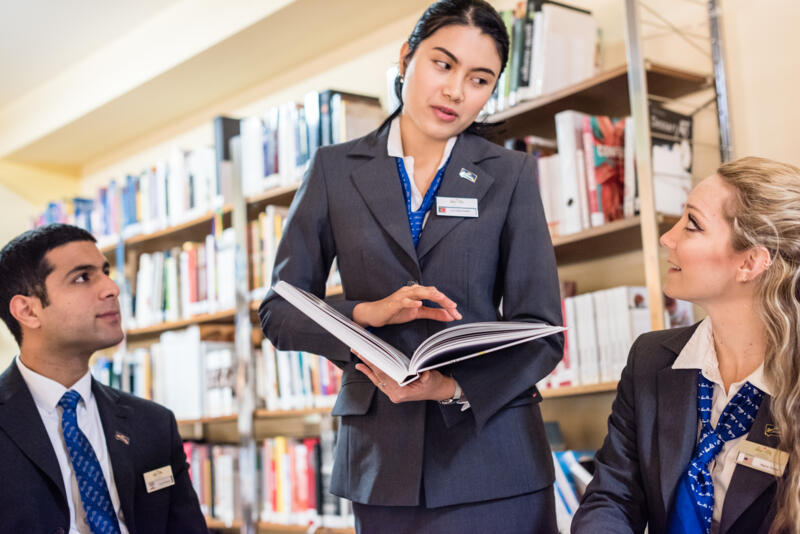 Programpartnere
Kontakten med virkeligheten og muligheten til å tilby utdannelse med direktekobling til det arbeidsgiverne etterspør, er noe som kjennetegner utdannelsene innen SEG – Swiss Education Group. På César Ritz Colleges blir programmet utviklet og tilbudt i samarbeid med:
Swiss Certificate in Hotel and Restaurant Operations – to år, seks måneder praksis
Første steget innen hotellederutdannelse er en sertifikat ser man sertifiserer at man har lært seg det grunnleggende om hvordan man operativt driver et hotell. Dette er første steg mot å kvalifiseres til et Swiss Higher Diploma og senere en bacheloreksamen.
Swiss Higher Diploma i hotell- og turismeledelse – to og et halv år, ett år praksis
Etter å ha tatt Swiss Diploma fortsetter studenten med en ny teoritermin og får sitt Swiss Higher Diploma. Nå spesialiserer man seg og skaffer seg spisskompetanse innen akkurat hotell- og turismeledelse. Dette programmer er den tradisjonelle sveitsiske utdannelsen, en utdannelse som har eksistert i over 100 år i den internasjonale hotellbransjen.
Bachelorprogram i hotell- og turismeledelse – tre år, ett år praksis
Denne hotelledelsesutdanningen med spesialisering passer studenten som vil jobbe med fritidsreisende og vil gjøre karriere i turistindustrien. Studenten får en bacheloreksamen fra Washington State University og en eksamen fra César Ritz Colleges. For studenten som satser på å fortsette sin akademiske karriere og ta en master- eller kanskje til og med doktorgrad, er César Ritz å anbefale. Det er også et perfekt program for studenten som satser på å åpne egen virksomhet i fremtiden, siden alle studenter ferdigstiller en bedriftsplan som en del av utdannelsen.
Man velger også en spesialisering til sin bacheloreksamen. Man kan velge mellom:
International Business
Business Start-Up
Culinary Trends (i samarbeid med Culinary Arts Acadamy i Sveits)
Tourism and Sustainability Management
Søknadspapirer:
Vitnemål fra videregående skole
CV
Kopi av gyldig pass
Personlig brev