Studer hotell- og event-management ved palasset i Montreux – SHMS – Swiss Hotel Management School
SHMS er verdenskjent for sine utdannelser innen hospitality og event-management. Vi kombinerer teori og praksis, hvilket gir studentene en dypere forståelse for emnet, og en solid grunnstein for sin fremtidige karriere.
Utdannelsen foregår ved to tradisjonelle sveitsiske palasshoteller i Caux og Leysin. Vakre bankettsaler, et stort teater, fullt utrustet spa og en menge ulike restauranter med ulike matalternativer gir studentene de beste forutsetningene. Sammen med vår sterke britiske universitetspartner tilbyr vi unike karrieremuligheter.
Vi tilbyr et spennende utvalg av programmer som alle har bakgrunn fra internasjonalt kjente sveitsiske tradisjoner, og fokuserer på globale trender, forretningsstrategi og operativt lederskap. SHMS garanterer en fullstendig utdannelse innen hotell- og event-management.
Etter to år ved SHMS har studentene:
Ett års arbeidslivserfaring
To anbefalingsbrev
Et Swiss Diploma i Hotel Operations Management
Etter tre år ved SHMS har studentene, i tillegg til det overnevnte:
En akademisk kreditert bacheloreksamen fra University of Derby i England
En bacheloreksamen fra SHMS – Swiss Hotel Management School i Sveits
Et diplom fra Ah&LA, American Hotel & Lodging Associattion, i USA
Vi tilbyr også Post Graduate-diplomer og masterprogram, som du finner her.
Vil du vite mer om programmet so book et veiledningsmøte med en av våre studieveiledere ved å fylle ut et interesseskjema.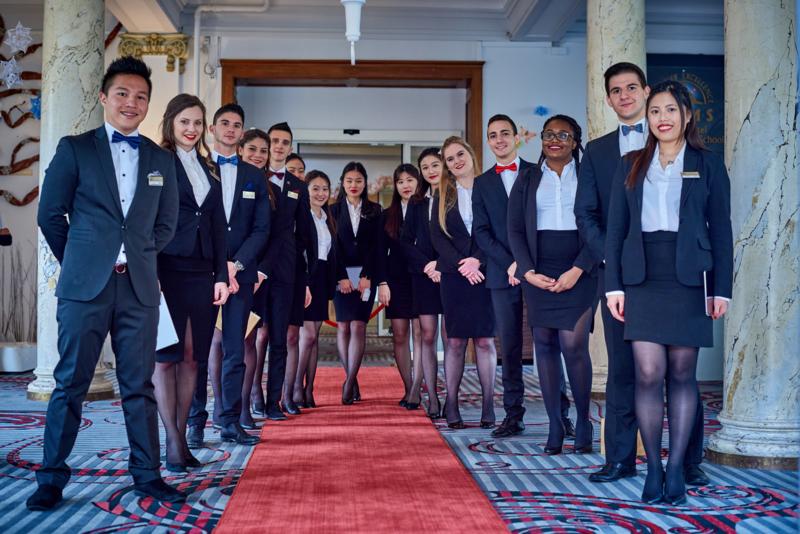 Programpartnere
Av den internasjonale hotellindustrien rangeres SHMS – Swiss Hotel Management School som en av de skolene i verden de helst rekrutterer fremtidig arbeidskraft fra. Programmet ved skolen er utviklet i samarbeid med våre partnere, som har en aktiv rolle, gjennom forelesninger, studiebesøk og tilbud om praksisplasser. Våre partnere er:
Swiss Diploma i Hotel Service Management – to år, ett år praksis
Etter to års studier, hvorav ett består av betalt praksis, får studenten et sveitsisk diplom i Hotel Operations Management, det vil si hvordan man effektivt leder den daglige driften på et hotell og i en restaurant. Dette er hjørnesteinen man senere bygger videre på i sin akademiske utdanning og sin internasjonale karriere.
Swiss Higher Diploma i Hotel Management eller Hotel & Event Management – to og et halvt år, ett år praksis
Etter å ta tatt sitt Swiss Diploma fortsetter studenten med ytterligere to teoriterminer og får sitt Swiss Higher Diploma. Her velger man spesialisering; man kan velge mellom Hospitality eller Hospitality & Events. Dette programmet er den tradisjonelle sveitsiske utdannelsen, en utdannelsesgrad som har eksistert i over 100 år innen den internasjonale hotellbransjen.
Bachelorprogram (HONS) i Hotel Management eller Hotel & Event Management – tre år, ett år praksis
Dette er vår versjon av en bacheloreksamen og man får den etter totalt tre års studier. Siste semester tar man i samarbeid med vår akademiske partner, University of Derby i England, og man får da fulle akademiske krediter for eksamen (180 ECTS).
Søknadspapirer:
Vitnemål fra videregående skole
CV
Kopi av gyldig pass
Personlig brev