Intervju med en student fra Norge
Denne uken snakket vi med en ambisiøs hotellsjef i ferd med å bli. Med seks års arbeidserfaring i bagasjen bestemte May seg for å ta en pause fra jobben og begynne å studere for å heve karrieren og få flere profesjonelle muligheter for seg selv. Nå studerer hun ved Hotel Institute Montreux (HIM) og er i praksis på et femstjerners luksushotell i De forente arabiske emirater og kunne ikke vært mer fornøyd med valget. I dette intervjuet blir May oversvømmet av sitt engasjement for læring, studentaktivisme og spennende fremtidige karrieremuligheter etter endt utdanning.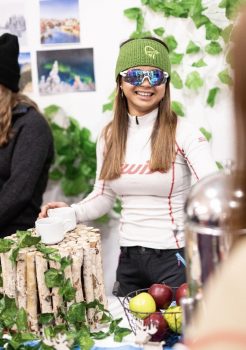 Hei May! Før du begynte å studere HIM, jobbet du i Food & Beverage (F&B). Hvorfor var det viktig for deg å begynne å studere gjestfrihet på toppen?
Etter å ha jobbet en stund i F&B avdeling følte jeg at jeg ønsket å oppgradere min karriere og videreutvikle mine ferdigheter og evner. Ledere forventes å ta regelmessige beslutninger som spenner fra enkle til svært utfordrende. Beslutninger i F&B-avdelingen kan ha direkte innvirkning på både ansatte og gjester. Derfor må de være riktige.
Hvorfor ønsket du å jobbe på et luksushotell?
Jeg husker da jeg selv hadde muligheten til å besøke et luksushotell, det var den beste opplevelsen noensinne. Det var nettopp derfor jeg ble interessert i luksushoteller – jeg ønsker å kunne skape slike varige minner for mine fremtidige gjester også!
Jeg visste at HIM ville gi meg de riktige verktøyene til å ta bedre beslutninger i arbeidet mitt. I tillegg ønsket jeg å være i et internasjonalt miljø med mennesker fra ulik kulturell og utdanningsbakgrunn. Jeg tror at slike erfaringer hjelper meg til å bli en bedre formidler generelt, noe som er ekstremt viktig i hotell- og restaurantbransjen.
Hvordan har HIM hjulpet deg med å utvide kunnskapen du har fått i din tidligere arbeidserfaring?
Før jeg kom til Hotel Institute Montreux, visste jeg bare det grunnleggende om F&B-tjenester gjennom praktisk erfaring. Skolen ga meg en dypere forståelse av gjestfrihet, hvordan man bygger relasjoner med gjester og hvordan man jobber i team. Jeg lærte at lidenskap og tålmodighet er de viktigste egenskapene for å lykkes i F&B. Jeg innså også viktigheten av evnen og evnen til å motta tilbakemeldinger og se andre perspektiver.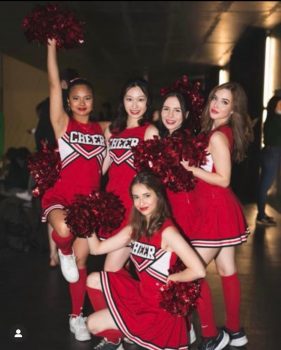 Du er en aktiv student og tilhører til og med Student Ambassadors Forum (SAF). Hvorfor ble du en del av denne organisasjonen?
SAF er en organisasjon for studenter som ønsker å utvikle blant annet samarbeid og tidsledelse. Jeg var Green Ambassadør i vintersemesteret 2021 før jeg gikk på praksis. Jeg utforsket hvordan vi kunne hjelpe skolen vår til å bli bærekraftig og miljøvennlig. Vi arrangerte ofte utdanningstiltak der vi inviterte campus studenter til å redusere matsvinn sammen, rydde i områdene rundt og lignende.
Hva slags mennesker vil du si at Hotel Institute Montreux er for?
Jeg tror det viktigste er at du føler deg 100% sikker på at studiene er det du ønsker. Å studere ved HIM krever ditt fulle fokus og engasjement til enhver tid. Det er en utfordring å håndtere emnets prosjektmøter med andre studenter, underveisprøver, avsluttende prøver og å overholde de ulike fristene.
Vi har imidlertid små klasser på skolen, noe som gjør det lettere å lære fagene og ligge i forkant. Hvis du ikke forstår noe, tar læreren seg alltid tid til å forklare det bedre for deg. Så hvis du er klar til å lære – HIM er akkurat det rette stedet.
Når du ser på bildene dine, virker det så gøy å studere hos HIM! Hva synes du er gøy her?
Et arrangement jeg setter pris på er for eksempel en studiekveld som SAF arrangerer i eksamensperiodene. Studentene inviteres til å studere sammen og alle får forfriskninger og drikke. Studie Kvelden motiverer studentene til å lære før eksamen samtidig som de har det gøy. Det distraherer også fra den typiske nervøsiteten man føler før eksamen. Jeg synes det er en veldig unik idé som man vanligvis ikke ser ved norske universiteter.
Hvilke praksismuligheter tilbyr HIM?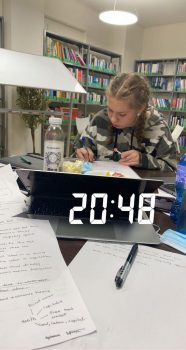 Hvert år arrangerer SEG et arrangement kalt «International Recruiting Forum», hvor mange bedrifter fra hele verden samles for å lete etter og rekruttere talenter. Dette er en mulighet for gjestestudenter til å nettverke, intervjue og motta praksis tilbud.
Hvordan var prosessen med å få en praksisplass for deg?
Etter å ha deltatt på arrangementet fikk jeg to tilbud fra forskjellige selskaper, ett fra USA og ett fra De forente arabiske emirater. Det var vanskelig for meg å velge mellom de to fordi begge hotellene var svært vellykkede. Heldigvis har vi i HIM en karriereveileder som kan hjelpe deg med å velge hvilken praksisplass som passer best for dine fremtidige mål.
Målet mitt er å bli F&B manager en dag. Etter å ha tenkt på det, virket det som om Oberoi Beach Resort i De forente arabiske emirater var mer i tråd med formålet mitt. Og det var det jeg valgte.
Jeg har allerede vært her i Oberoi i noen måneder nå, og jeg har lært mye! Jeg har lært å se andres perspektiver, akseptere kritikk, tilpasse meg, være sikker på avgjørelsen min, ta ansvar og være rettferdig og modig til å si fra.
Hva likte du best med å bo i Sveits før praksisoppholdet ditt i De forente arabiske emirater?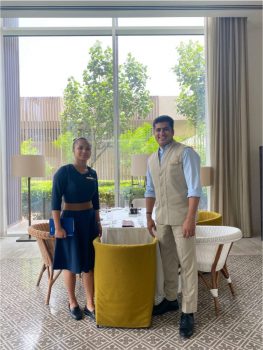 Fremfor alt likte jeg de fantastiske menneskene jeg møtte på skolen og som til slutt ble som en familie for meg. Jeg må også nevne det fantastiske landskapet i Sveits. Med alle de fantastiske opplevelsene der, vil disse fjelltoppene alltid få meg til å føle meg hjemme.
Er du innstilt på en bestemt karriere eller er du åpen for ulike muligheter?
Jeg er åpen for ulike muligheter fordi jeg tror at ulike opplevelser får en til å vokse. Mitt langsiktige mål er imidlertid å bli F&B Manager og General Manager noen år senere.
Hvis du skulle bruke et enkelt ord for å beskrive kulturen til HAN – hva ville det vært og hvorfor?
Ordet vil være "familie". Vi er en liten gruppe mennesker som alltid vil være der for hverandre uansett hva som skjer.
Takk, May, for den fantastiske praten og lykke til med din fremtidige karriere!